Trail Information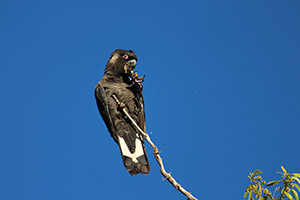 The Karak Bidi (translation Black Cockatoo Trail) lies on Whadjuk Noongar land. The Karak Bidi is a 11.3 km trail which includes views of the picturesque Swan River (Derbal Yarigan), which is woven into the dreaming stories and song lines originating from the local Noongar people. It links parks and Bushland areas with local iconic and heritage trails. There are several local pinnacles along the route to look out for. These limestone outcrops can still be seen on the steep slopes near the Birdwood Park bushland where the elevated position offers views of the Swan River, Kings Park and Perth City.
This trail supports links across the Whadjuk Trail network. The Karak Bidi is suitable for all walkers where a moderate level of fitness required. The majority of the Karak Bidi is sealed, however it does include a crushed limestone segment of trail through Karrakatta prior to entering the bushland at Hollywood Reserve, where there are some additional unsealed sections of pathway. Please refer to the Accessibility guide for further details.
The Karak Bidi can be enjoyed throughout the year. As the weather in Perth in the summer can become very hot, it is essential to bring plenty of drinking water, and to wear sunscreen and a hat. Mobile phone coverage is good, and use of maps is available with most providers. The trail is dog friendly with numerous opportunities to enjoy the shade of the wonderful indigenous trees where birdlife abounds in the treetops.
Back to top