Trail Information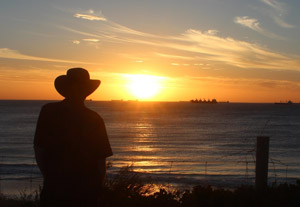 The Wardun Beelier Bidi lies on Whadjuk Noongar land. This trail connects the Indian Ocean with the Swan River, forming the southernmost section of the Whadjuk network of trails. The trail is suitable for all walkers, with a moderate level of fitness required. Trails have been developed providing an assortment of facilities for family and recreational walkers to enhance an understanding and appreciation of the natural environment. Path surfaces vary, with a section of the bushland area within the Shire of Peppermint Grove unsealed. There is a short section of the path with beach sand near the Cottesloe Foreshore. A short alternate route along the road reconnects 80 meters further up the trail.
This trail is dog and cycle friendly, and can be walked in sections to suit walkers' abilities and available time. There are no areas where bicycles are prohibited; however the section to the north of Leake Street in Peppermint Grove has a few steps where one may need to dismount. Please see the attached detail on this section of the trail. It is suggested that the alternate road route is chosen for the short distance along the Cottesloe Foreshore.
Enjoyable throughout the year, the Wardun Beelier Bidi has wild flowers abundant in the spring. As the weather in Perth in the summer can become very hot, it is always advisable to bring plenty of drinking water, and to wear sunscreen and a hat. Mobile phone coverage is good, and use of maps is available with most providers. Download the professional version of everytrail, to enable viewing of the trail map offline.
Back to top